Description
VADISA (VDS) Non-woven geotextile

Made of 100% high quality polypropylene fibers with high UV resistance and pruduced on the fully automatic production line by Korean technology. The VDS non-woven geotextiles are needle-punched fabric to form a strong fabric that retains its dimensional stability and resistant to damage from construction stresses. The VADISA non-woven geotextiles have a lot of tensile strengths and various thicknesses to ensure appropriate material sellections for your projects and different purposes.

The VADISA factory can produce non-woven geotextiles with the tensile strength from 7kN to 80kN with their tensile strength from 100g/m2 to 1200g/m2 even more.

VDS NON-WOVEN TEXTILES ADVANTAGES:

Diversity: Materials can meet all technical requirements.

High stability

International standard quality with reasonable price

Raw materials imported from high quality resources and strictly inspected

Technical consultancy will be always supported from VDS engineer team
I. FUNCTIONS
1. Seperation
| | |
| --- | --- |
| | Non-woven geotextiles take a separator role between two layers of material with different grain sizes such as sand, rocks, gravel under impact by the moving vehicles and means of transporation over time on the surface of ground where non-woven geotextile ensures stabilization between soil layer and material layers of soil, earth, sand, gravels. Keep mechanical properties of the land layers stabilized and working load will be distributed evenly on the surface. |
2. Filtration
| | |
| --- | --- |
| | Non-woven geotextile acts as a filtering layer sandwiched between two layers of material with the different flow-rate, one layer is soil, and another layer is sand, rocks and gravel. Filtration will take a role to prevent erosion caused by water flow-rate from fine-grained material layer into the raw material. |
3. Drainage
| | |
| --- | --- |
| | Needl-punch non-woven geotextile helps water drainage according to direction perpendicular to surface of non-woven geotextile to make the drainage ditch of groundwater. Permeability flow inside the earth will be gathered to the drainage ditch where non-woven geotextile was applied and lead to the gathering area of water by a drainage pipe. The non-woven geotextiles' pore size needs to enough small for soil not to pass by and enough large for water to drain |
4. Protection
| | |
| --- | --- |
| | Beside tensile strength and high CBR puncture resistance, the non-woven geotextiles are also resistant to environmental (Resistant to salt water). Due to quick water drainage, therefore, it can combine with other materials such as stone carpets, gabions, rocks, concrete … to make a buffer layer to protect erosion for dykes, dams, seacoast, piers, etc. |
5. Reinforcement
| | |
| --- | --- |
| | Non-woven geotextile has high tensile strength. People utilise this feature to provide the soil certain strength, it means that reinforcing the soil or pack soil in geotextile bags to make strength for earth. It helps prevention of local destroy which can easily happen in the weak land area. |
II. Production process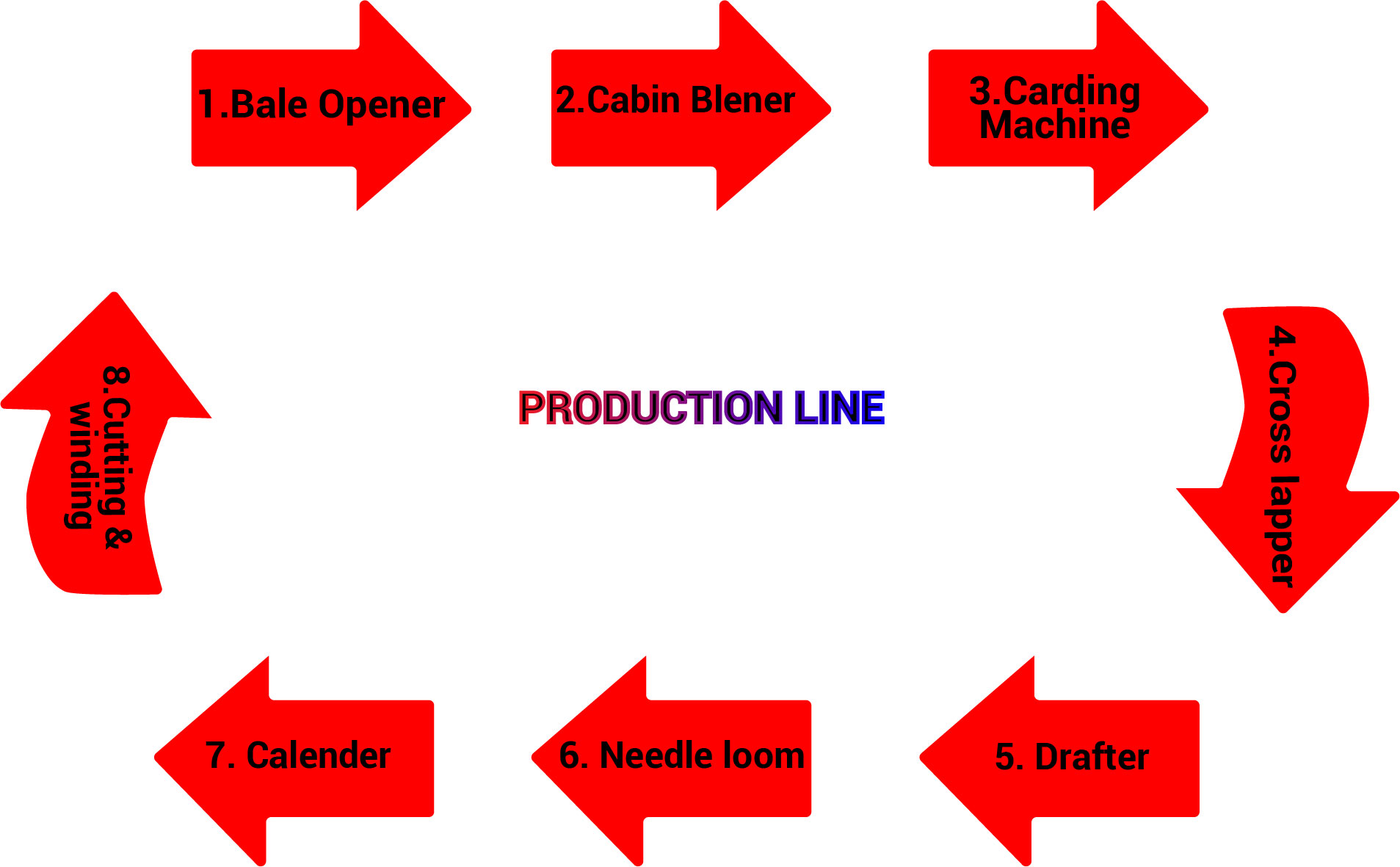 III. APPLICATIONS
Separation stabilization of roadbed: Thanks to the high tensile strength and high stresses, thus Vietnam non-woven geotextiles are used to make separation layer between the subgrade and the weak soil to maintain the load capacity of roadbed. Stabilization of background in overland road construction, railway, yards, container yards, ground filling,..
Restore and strengthen of weak ground: Geotextile with high tensile strength, low elongation, and good tensile strength of seam, so the non-woven geotextile is applied to be a cost-effective and effectiveness to restore the soft-grounds mud pond, swamps, …
Anti- erosion: Vietnam non-woven geotextile is applied in dykes, dams, irrigation canals, rivers, and seaside to reduce hydrodynamic pressure from inside slope surface and eliminate the environmental impacts caused by temperature, raining, wind, and wave.
Filtration and water drainage for roadbed, works: Stadium, golf-course, park, agricultural drainage canals,..
Protection layer for HDPE geomembrane in the projects such as: waste treatment system, wastewater pond, landfill, etc.
IV. SPECIFICATIONS